Ефим Наумович Рухлис (09-04-1925 - 05-02-2006) Ukrainian-Uzbek-Israeli composer and FIDE Master
(Efim Naumovich Rukhlis)
International Judge and twomover composer, Efim Rukhlis revolutionized the twomovers in the 1960s with
his theme
, that involves at least two transferred mates and on the same black defences two changed mates.
He composed more than 300 Ideal-Rukhlis twomovers, according to Milan Velimirović in his article "
Ideal Ruchlis - A comprehensive overview
" in Mat Plus Review, 9-10. Spring-Summer 2009.
Let's see an example from 1946:
Show Solution
Геннадий Владимирович Чумаков (09-04-1942) Russian composer and FIDE Master
(Gennady Vladimirovich Chumakov)
Gennady Chumakov is a helpmate composer. He has obtained many successes and seems to enjoy composing in collaboration with Fadil Abdurahmanovic or E.Fomichev.
Show Solution
Puiu Popescu (09-04-1947) Romanian composer
Puiu Popescu is a twomover and helpmate composer.
Show Solution
Михайло Іванович Мишко (09-04-1958 - 01-01-2018) Ukrainian composer and FIDE Master
(Mikhail Ivanovich Mishko)
Mikhail Mishko was born in Belarus and moved to Donetsk after the Chernobyl accident. He was a selfmate composer specialized in long problems and he often associated with Valery Kirillov.
Show Solution
Sven Trommler (09-04-1966) German composer and Grandmaster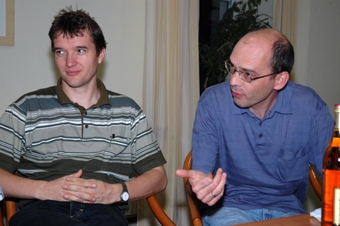 Sven Trommler (left) and Wieland Bruch (right) at Meerane, 2006
[Die Schwalbe]
Sven Trommler composes in all genres and the best way to show his style is to reproduce two of his problems: a selfmate and a helpmate.
Show Solution
Show Solution