Edouard Pape (18-04-1870 - 06-03-1949) French composer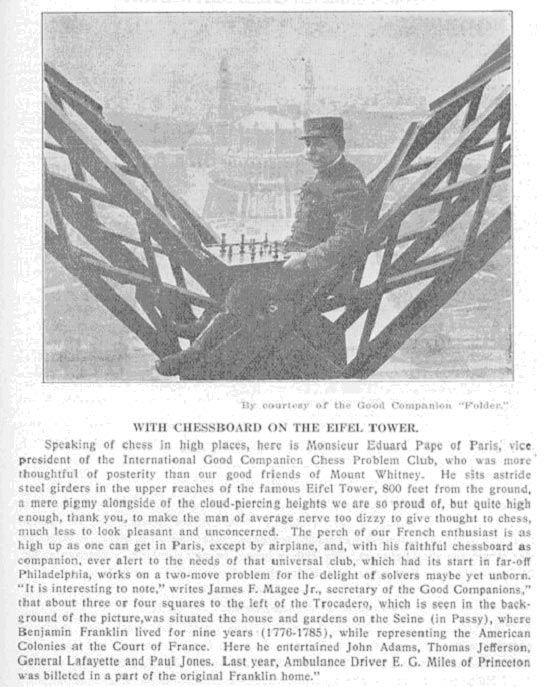 Edouard Pape on the Eiffel Tower
American Chess Bulletin, sept. 1921
[mjae.com]
Edouard Pape composed more than 2000 problems, most of them twomovers in the "Good Companions" style - he was vice-president of the Good Companions. He wrote a chess-themed novel "
La variante F.VIII du Gambit Camulogène
". The Pape theme requests the double en-passant capture of the same white pawn.
Show Solution
Григорий Леонтьевич Попов (18-04-1950) Russian composer and International Master
(Grigory Leontievich Popov)
Grigory Popov
is a moremover composer with many recent successes. He was 7th in the moremovers section in
WCCI 2004-2006
. Here is a sample of his talent:
Show Solution
Show Solution
Show Solution
Margus Sööt (18-04-1980) Estonian composer
Margus Sööt is a chess player and solver who sometimes composes. He is also the studies editor of the Swedish magazine "Springaren".
Show Solution